Yes, I realize it has been way too long since my last post. Probably a record for me. So rather than watch the Superbowl, I am going to blog. Last Saturday Brooklyn starting running a fever. Then Sunday, she got an all out stomach bug. She was sick all week. You can't comprehend the love for your child until you are covered in their throw up! I don't know how the other two haven't gotten it, but I pray that they don't. I spent all week trying to take care of Brooklyn while trying to keep her apart from her sisters as much as possible so she wouldn't share her germs. I felt so bad for her. We had a trip planned to Fort Worth this weekend and I didn't think we would be able to go, but Friday morning Brooklyn seemed to be doing better so we took a chance and loaded the girls in the car. They did great! They got to spend time with their cousin Jackson who turned one year old on Friday. Happy B-day Jack! The girls had a great time playing with him on Friday and then going to his birthday party on Saturday.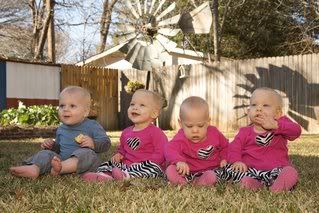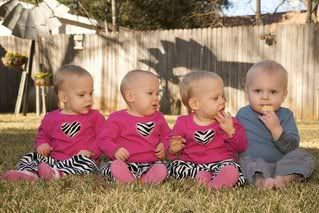 The girls wondering why Jackson has a cracker and they don't. I love this pic!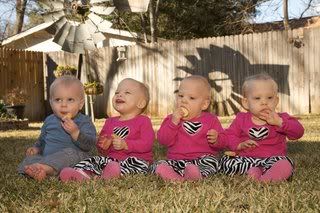 That's more like it!
Brooklyn getting chased by Jackson and Caitlyn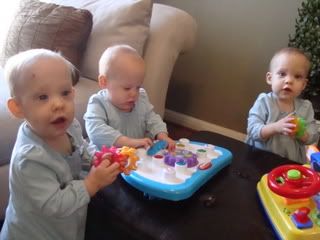 Jackson and Caitlyn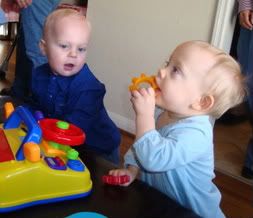 Sharing so well!
Birthday Boy
Bye Bye! See you next time!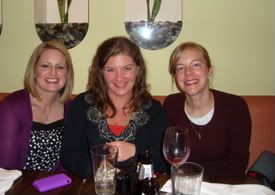 Nite out with no babies - me, Kelly, and Leah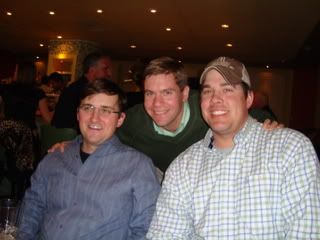 The boys - Matt, Marshall, and Brian
We also took the girls down to the stockyards since the rodeo was going on. We wanted to go to the petting zoo but the line was insane. So we just walked around the children's barn. They liked seeing all the different animals.
Addyson trying to get the goat
Brooklyn and Caitlyn
P.S. Brooklyn is walking everywhere! She is so cute walking with her arms out to keep her balance. We are still trying to coerce Caitlyn into taking a step. She will stand on her own for 20-30 seconds and you can tell she is really thinking about it. Then she will just lunge at you! It is pretty funny but I don't think it will be long before she will be brave enough to go for it. I will try and get some video of Brooklyn walking.