Well, it's time for another trip down memory lane because today is Addyson and Caitlyn day! February 20, 2008 is the day that we officially became a family of five. We finally had all of our babies home! Brooklyn had been with Brian and me for exactly a week and then Addyson and Caitlyn were released from the NICU. So we packed up all of our things and finally said goodbye to Houston. It was hard to say goodbye to all the nurses and doctors who had taken such good care of our babies. I cannot say enough good things about Woman's Hospital! I will never forget this day. It almost felt surreal because I had been waiting for it to come for so long. I think it really hit us that we now had three tiny beings that we were responsible for. When we got home we lined the girls up in their carseats and just stared at them for the longest time. But then it was time to hit the ground running! It didn't take long to get into a routine. Every three hours we would give the girls reflux medicine before they ate, change diapers, make bottles, and feed them. Usually by the time you got done there was only an hour or so before you had to do it all over! I can't say that I miss those days! A year later, I continue to count my blessings and praise God for three healthy girls. Addyson and Caitlyn we love you so much!
Addyson's discharge weight: 5 lbs, 8 oz.
Poor thing had as much hair then as she does now!
Addyson came home on oxygen and stayed on it for about six weeks. The little stinker never kept the canula in her nose. No matter how much you taped it she would always pull it out!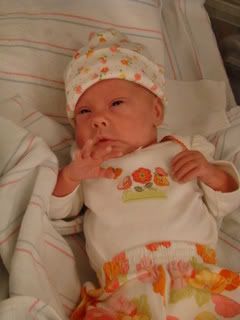 Caitlyn's discharge weight: 6 lbs, 1 oz.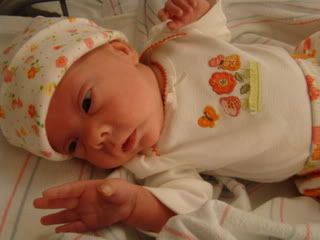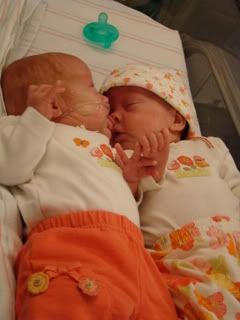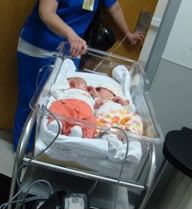 Bye Bye NICU!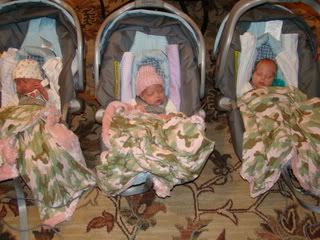 We made it!
Home sweet home!
My sweet girls today: