The girls finally had their nine month checkup last week. They got a great report and only had to get one shot! We are working on making the switch from baby food to table food and from formula to milk. Developmentally, the girls are right on track to where they should be for their real age. I am so proud of them!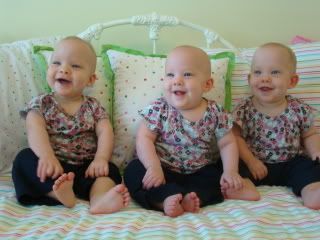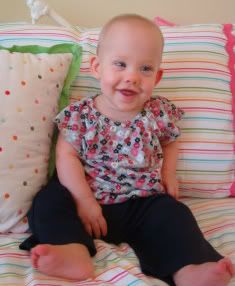 Caitlyn weighed 18 lbs, 11 oz. and is 26 1/2 inches long
Caitlyn: Caitlyn is very independent but also a big mama's girl. She is the baby of the group and moves at her own pace. She is very laid back most of the time. She has a great big smile and the cutest little dimples. When she is upset, boy you will know it. She has a big boo hoo cry that will melt my heart in seconds. She is content to play alone and can entertain herself with a toy for hours. Caitlyn loves to play with dolls and loves to eat! This girl will eat anything and everything! She is a sweet baby and will always give you a good cuddle when you need one. Caitlyn has her front two bottom teeth and is getting a tooth on the top. She has the longest hair of the group and it is a beautiful champagne color.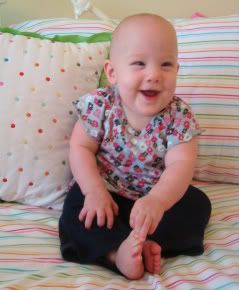 Addyson weighed 17 lbs, 14 oz. and is 25 3/4 inches long
Addyson: Addyson is very strong willed and determined. (I wonder where she gets that from?) She can have the biggest pouty lip but also has the prettiest smile that makes her eyes just twinkle. When it is time to go to sleep, Addyson's crib turns into romper room. She will spend at least 5-10 minutes rolling around, talking, singing, and throwing her stuffed animals around her bed before she goes to sleep. Addyson says Dada and likes to move her hands around and watch them. She also likes to stick out her tongue. Addyson loves music and loves for anyone to sing songs to her. She also loves textures and fabrics. She loves to feel different fabrics and loves buttons, zippers, and fringe. Whenever I give her bottle, she will rub on my shirt almost the entire time. She is finally getting her first tooth and has some hair coming in in the back.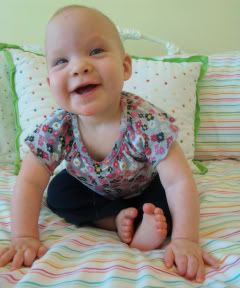 Brooklyn weighed 19 lbs, 1 oz. and is 26 1/2 inches long
Brooklyn: Brooklyn is the ham of the group. She is the typical middle child, aka the overachiever. She has been the first to do almost everything so far. She is like a bull in a china shop, always on the go. If her sisters are playing with a toy, she has to have it. She loves to jump in her bouncer and has a new walker that she also enjoys....anything that keeps her going! She has a very loud high pitched shrill that we say is her singing voice. Brooklyn's hair is starting to get thick on top and is kind of in a little spike right now. It is very cute! Unfortunately, Brooklyn is not much on cuddling. There are very few times when she will stop and let me love on her. She has the cutest little laugh and loves to giggle. She is very ticklish. Brooklyn has her front two bottom teeth. She is the pickiest eater out of the group but is starting to warm up to new things.