The girls have new "big girl" car seats. This afternoon we unloaded them out of the boxes and got them all ready to put into the babymobile. We had the girls try them out before we installed them. I think they really like them and will love having more room on their rides. Their carriers were starting to get quite heavy and pretty cramped!
Brooklyn testing it out
Addyson, the fashionista, loving my fabric choice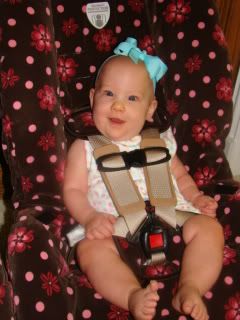 Caitlyn still unsure about it
Ready for a road trip!
We sure have come a long way! These are some pics of the girls when we brought them home from the hospital six and half months ago and they rode in their infant carriers for the first time. The girls were so small, their carriers seemed to swallow them. We never thought they would outgrow them!