Last week was much quieter than our week before.  The girls took turns running fever and feeling puny.  This along with some bad weather, made for alot of time inside.  I tried to come up with some entertainment for the girls to help with the long days indoors.  
First we practiced wearing our sunglasses in preparation for our trip to the beach in a few weeks.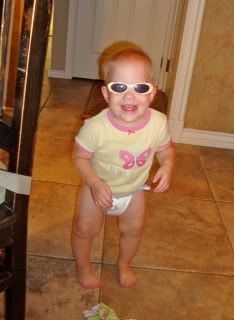 Then we played with play-doh but it is so tempting to taste!  After Addyson tried to eat half the can, we had to put it up. 
The girls came up with this one all on their own and it seemed to be much more entertaining then any of my ideas!  
 Yes, they decided the dog kennel was lots of fun!