The girls finally had their two-year checkup on Monday. At two-years old, doctors stop adjusting for preemies because most preemies have caught up to their peers by this age. Our pediatrician said that the girls are doing great and are perfectly happy, healthy little two-year olds doing exactly what they should be doing at this age. This is always good news and again makes me so thankful that our girls do not have any major health problems from being born so early. Caitlyn is now the tallest (35 in.) and the heaviest (28 lbs.) and is in the 50-75% on weight and height. Addyson and Brooklyn are about the same weight (27 lbs.) and height (33 1/4 in.) and are in 25-50 percentile. I wanted to go ahead and blog about life at the moment because they are growing so fast! I have thrown in some random pictures from the last few weeks.
-The girls have really started talking over the past month or so. They have started using two or three word sentences and it is so cute. They will repeat anything!
-Jumping is a very fun activity. We got the girls a toddler trampoline for Christmas and it was a huge hit!
-The girls are really getting into pretend play. They love playing with their dolls....feeding them, rocking them, putting them in the baby bed, strolling them, etc. They also spend a lot of time playing with their kitchen and cooking pretend food.
-The girls do roll call on a daily basis. The people they usually ask about are daddy, nana, poppy, dodie, and pee wee. Sometimes I feel like I say "Daddy is at work" a hundred times a day! If we have a play date or see someone we don't see on a regular basis they will ask about them for the rest of the day.
-They love seeing pictures of themselves and people they know and pointing out everyone in the picture
-We have started to enter the picky toddler eating phase but they are still good eaters most of the time.
-They are still in their cribs and still in the same room. They have yet to try and climb out and I am so thankful! (I hope I'm not jinxing myself by typing that) Our plan is to seperate them into different rooms when they are ready for big girl beds.
-We have started getting the girls used to the potty but I don't plan on really trying to potty train until this summer
-The girls are very good at the name game. They know all of our family and extended family. They will call Addyson, either "Addy" or "Addyson." Brooklyn is usually "Brooklyn" but occasionally they will call her "Brook, Brook." Caitlyn almost always calls herself "Kay-Kay." If you ask her what her name is she will say "Me Kay-Kay." I haven't broken it to her that her name starts with a C! :) We are working on middle names and last names.
-The girls are learning their shapes and colors and can sing most of their ABCs and count to ten with most of the numbers in order.
-They love to sing! Some of their favorite songs right now are Jingle Bells, The Itsy Bitsy Spider, Row Row Row Your Boat, She'll Be coming Around the Mountain, and Twinkle, Twinkle Little Star.
-There is an obsession with shoes in our house. The girls love to wear their dress up shoes but mommy's shoes are even better. I think they can walk in heels better than I can!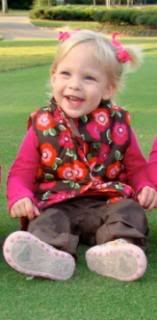 We always predicted that Brooklyn wouldl be our little tomboy and I think this will hold true. She loves all the girly things that her sisters do but she also loves to watch sports and hunting with daddy. She has a small obsession with basketball. Every time we pass by a basketball goal she will spot it and start yelling "basketball! basketball!" We hope to take her to first Aggie basketball game soon. Brooklyn loves to be outside and would swing for hours if you let her.
Brooklyn is very curious and will always point at things and say "What's that?" It is funny because the way she says it is more like "wha sat?" or just "sat?" and her voice will go up at the end so that it is posed in the form of a question. She takes notice of
everything
and will be sure to ask you about it if something isn't right.
Brooklyn is definitely the most independent of all three girls. She wants to do EVERYTHING herself! This can cause problems when we are running late to be somewhere and she has to dress herself :) She is very strong willed but can be a huge mommy's girl and very needy at times. It takes her awhile to wake up and she loves to sit and have cuddle time for a few minutes before she takes on the day.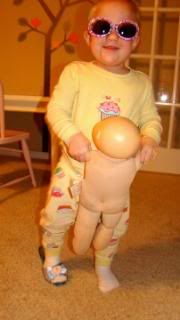 Addyson is a big girlie girl. She loves to play with her baby dolls and has an obsession with monkeys at the moment. She loves anything and everything that is monkeys! Addyson is the most advanced with her speech. She uses sentences on a regular basis and has the most extensive vocabulary. She is always making me laugh with the things she says! She has a great memory. Addyson loves to read books and will entertain herself playing with her toys. She loves music and loves to sing. When we were at the doctor's office over Christmas, Addyson busted out "Go Tell it on the Mountain" and I had no idea she even knew that song! I'm hoping that maybe we are raising the next American Idol 2024!
Addyson especially likes to play with her dollhouse and a wooden castle that she got for Christmas. She loves to pretend the people are doing things like laying in bed, going up the stairs, and sitting in chairs. She also has some cars that have little people drivers and these are some of her favorites as well.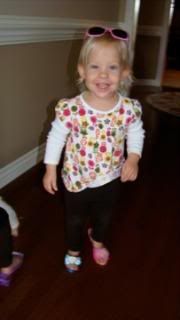 Caitlyn is my little drama queen. This girl can work the waterworks! If someone takes a toy from her she will cry like her heart has been broke in pieces! She will mix jibber jabber with real words and talk a mile a minute, almost like she is trying to talk like an adult. Caitlyn is very caring and thoughtful and will go out of her way to do nice things for her sisters. She loves hugging and kissing on them....it is very sweet! She will bring them dolls or toys to play with. She loves animals especially puppies!
We call Caitlyn the hoarder because she loves to get as much of something as she can just to have it. She will fill up her stroller or shopping cart with every toy she can find and walk around with it. Caitlyn likes to dress up the most and loves her accessories! We used to think she was going to be the laid back one but now we aren't so sure!