This month we have had something going every weekend. The girls have become seasoned travelers and really do well in the car. We started off by going to the ranch over the 4th of July weekend. This was the first time for Brian and I to travel with the girls by ourselves. The trip went pretty well overall and it was nice to have a change of scenery.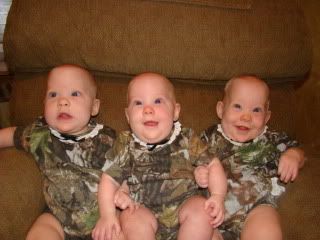 Getting ready for hunting season
The next weekend we were off to Lake Buchanan for the Jones Family Reunion. The girls enjoyed being outside and meeting lots of new people. They went swimming and played with their toys on a quilt.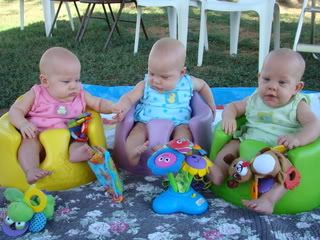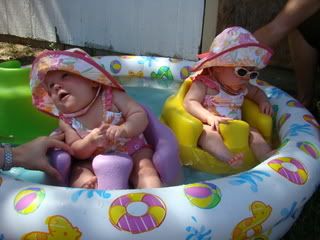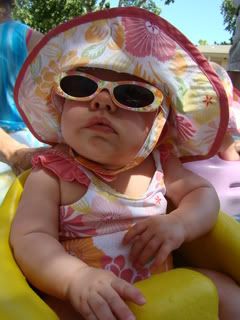 Miss Hollywood aka Caitlyn
Brooklyn enjoyed swimming with Aunt Janelle
Addyson had two important doctor's appointments this month. First, I took her to Texas Childrens Hospital for them to do an echocardiagram on her heart. When we took her home from the hospital in February, she still had a small heart murmur that we were told we would need to have rechecked once she was six months old. After they looked at it this time, everything looked perfect. The murmur was gone....what a relief! She was the first born and the smallest of the three so we are so blessed that we have not had any other major health issues. The girls are all as healthy as can be!
Our next appointment was with a pediatric orthopedist because Addyson's feet are slightly turned in. This is largely due to the fact that she was breach and she was being sat on by her sister Caitlyn! Needless to say there was not alot of room in my belly! The doctor said he was not worried about her feet and she should not have any setbacks in walking, running, or playing sports. He told me to start putting shoes on her on the wrong feet and this would help to turn them out. We got her three new pairs of shoes and she is loving her new fashion accessories! Here she is modeling.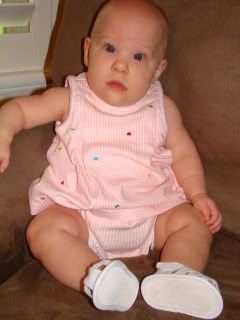 This past Sunday we had the girls baptised. It was a treat for our pastor to baptise triplets, he had never done this before! The girls all did great, and didn't even let out a peep. It was a very special day for us and we were blessed to share it with family and friends.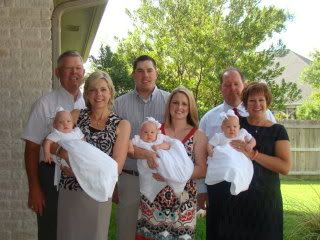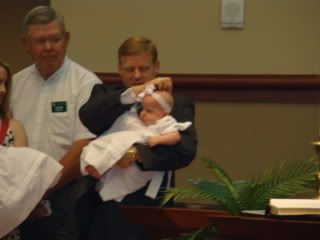 We have one more family reunion and I think we will be done traveling for a little while. Another month has flown by! The girls are seven months old now and are changing everyday. They are rolling all over, talking, singing, and scooting. I definitely have my hands full but wouldn't have it any other way!